Newsflash 18/7/2020
Folk,
I trust you are well during these interesting times, particularly our Victorian brethren. The HSRCA is still planning to run its first meeting for the year at Wakefield Park on 29/30 August, but who knows where we will be by then. We have several Victorian entries but it is highly unlikely the border will be open in time for them to make the journey.
No doubt you have heard of the passing of Ron Tauranac this week at the ripe old age of 95. A true gentleman and a legend of our sport.
In other news, I learnt this week that Sandown, planned to be run in early November, has now been cancelled, so they obviously believe that it will be sometime before any form of normality returns down south. Kim Shearn managed to sneak out of Victoria in his new motor home before the borders were closed and he called me today from Moree (NSW). We discussed what to do with the AFJA Championship this year and, after talking with Jon Rowe in WA we decided unsurprisingly, to cancel it for 2020.
If anyone knows how to drive Facebook, Kim has created a site called Australian Formula Junior. It would be much appreciated if someone could post this information onto the site. I'm afraid it is way beyond by technical knowhow – give me a pair of webbers any day.
Jonathan Williamson, a keen competitor in his Lotus 22 for several years until he moved to South Africa with his work, has returned to Australia and his car is now up for sale. This is a fine example of the marque and in Jonathan's hands was a front running car, beautifully prepared and maintained by the Penrite Team in Melbourne. Details are provided below.
1962 Lotus 22 22-FJ-13
Very original Lotus 22 in my ownership for 20 years. I raced the car in the UK & Europe before bringing the car with me to Australia in 2003. I have since raced extensively in Australia and NZ, winning the Australian Formula Junior Championship twice. The car is the holder of several lap records at Australian circuits.
The car was sold new to Malcolm Templeton in Ireland, who was the official Lotus importer. He successfully raced the car between 1962-1964, winning numerous FJ races at Kirkistown, Bishops Court and Phoenix Park. In 1963 the car was converted to Formula Libre spec with a 1500cc Lotus twin cam, and Malcolm continued to win races across Ireland.
In 1965 car was sold to Reg Armstrong, the professional Irish motorcycle racer who rode for the AJS, Norton and Gilera factory teams. A comprehensive history file has been put together by an Irish motorsports historian.
The car has a continuous history and was fully restored by Simon Hadfield Motorsport in the UK.
Current Australian CAMS Certificate of Description and FIA Papers (HTP not used in Australia).
£70,000. Comes with spares & service package.
Jonathan Williamson: jonathan_m_williamson@yahoo.com or +61 437 513786 (Brisbane)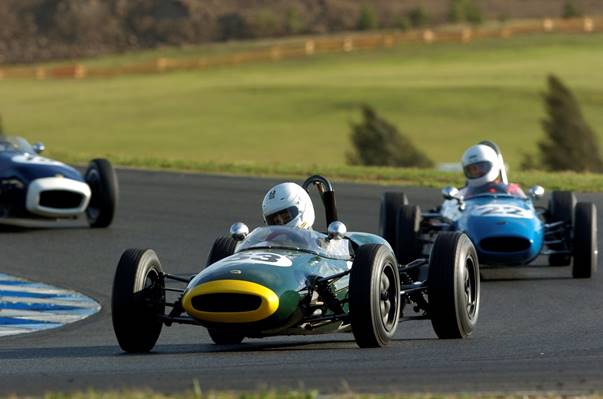 Stay safe and I hope to see you at a race meeting soon.
Noel Bryen.
Trackback from your site.