Greetings,
I am currently in my COVID bubble in the second week of our lockdown, which hopefully will end in a few days. Having done everything I can to the Rennmax in preparation for the next meeting and tidied up the shed, I decided to tidy the home office and found some filing to do from the last couple of rounds, which reminded me that I haven't provided an update for quite some time. Then, Bill Hemming sent the update below, which is aimed at the FJHRA in Europe, so what better time to provide an overall update of events in the AFJA.
Mallala, April 2021.
This was a typical Mallala event, relaxed, laid back, unhassled and uncomplicated. The only negative part of the weekend is the grind there and back across the Hay Plains, but that is soon forgotten. AFJA competitors included Kim Shearn, Max Pegram, local boy Richard Nitschke and yours truly. Bill Hemming, Peter Strauss and Norm Falkiner were also competing, but not in their Juniors – it's nice to have a choice!
The organisers mixed us in with the Formula Fords for this event, and it worked out quite well. We were too slow for the FC cars but mixed it with the FBs and FAs, so there was always someone to play with. The weather was kind, the racing good, the social dinners excellent and Spencer Martin was guest speaker on the Saturday evening and was very entertaining. A fun weekend, especially since the car went back on the trailer in one piece.
Eastern Creek, June 2021.
This was going to be a FANTASTIC event, with over 260 competitors, the biggest event the HSRCA had staged in over a decade. But alas, it was not to be, with COVID restrictions wiping out the Victorians with only a week to go, and the result was just over 200 competitors and not enough to break even.
The event was celebrating the life of Ron Tauranac, and to mark the occasion the HSRCA arranged for Sir Jack's winning car from 1966, the BT19, to be on display across the weekend. What was even better, we managed to coerce Sam Brabham, Sir Jack's grandson, to drive it in the parade laps on both days. And, just when you think it couldn't get batter than that, it DID! We arranged for Sam to race Tony Simmons' BT6 FJ in the races across the weekend, and he thoroughly enjoyed it.
I can now claim braggers rights that I have raced my Rennmax against a Brabham driving a Brabham, and I beat him! But I'm not getting too carried away, I know he was not driving at 100%, but it was wonderful to see him on the track. Check out the photo below. Sam is a lovely bloke, a real ambassador to the Brabham family and to the sport itself, only too willing to participate in sponsoring historic motor sport. In chatting to him, he said he was really excited to have a drive, because this was the first time he has raced a Brabham at speed, having done many parade laps over the years in other Brabhams. Sam has had previous experience in Formula Ford and modern sports cars and resides in Victoria. Fortunately for us, he was working in Perth the week prior and flew straight to Sydney for our event, hence avoiding the Victorian lockdown.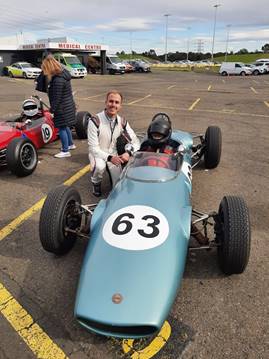 The event was still great despite the absence of the Victorians and the weather was perfect all weekend and not too many red flags, but it could have been so much better. A special thanks to Tony Simmons for lending the BT6 – as you may know, Tony is not very well these days, suffering from Parkinson's Disease, but he made the effort to come out to the track on the Sunday and meet Sam and his old friends.
Coming up.
You have probably heard by now that Morgan Park, scheduled for 3/4 July has been postponed to 18/19 September, also due to COVID. This means our next event is Winton Long Circuit on 7/8 August – I hope to see you there.
The current points score is at the bottom of the article, after Bill's missive.
Regards,
Noel Bryen
Notes from Down Under.
Following a plea for entries to upcoming events, a fleet to New Zealand in 2022, and help to organize things, there was a roar of apathy!
Formula Junior in Australia is suffering from infanticide, largely due to our inept State Premiers who lock us down on the smell of a COVID case.
I guess they can claim they are keeping us alive….but this is no way to live. Events are being cancelled on 2 day notice (usually after interstaters have left home to make the 2000km trek to the track).
Our category is being kept alive by the usual diehards like Noel Bryen in his Rennmax, Steve Moody in his Lotus 18 and Max Pegram in his Gemini with sporadic appearances by others and social media support by Alan Conway (Brabham F3). Matters weren't helped by yours truly when I ran over my legs by my runaway F5000 on a slope – broke my right ankle and tore tendons in my left leg 3 days before the May Winton meeting. Just getting out of my moonboot after 7 weeks and hope to be at the August Winton meet. Any sympathy I got was for my car, as in "is the car OK". My speedhump impersonation stopped it 3 feet from hitting a truck on the other side of the road. My ever loving wife hit me with "if you're looking for SYMPATHY, you'll find it in the dictionary. It's between SHIT and SYPHILLIS".
Oh well, onward and upwards. Our NZ foray will have to wait until 2023 but there are some terrific events for the remainder of 2021.
Jeff Brown has purchased the one-off, BMC engine GARD and is well on the way with a full restoration of this very interesting car. Kim Shearn has become a grey nomad for 6 months and is currently cruising through Western Australia where he has been charged with re-enthusing the 9 odd FJ's in Perth.
Hope to have more positive news for the next FJHRA newsletter.
Cheers
Bill
| | | | | | | | | | | | | | | |
| --- | --- | --- | --- | --- | --- | --- | --- | --- | --- | --- | --- | --- | --- | --- |
| NAME | STATE | Car | Class | Phillip Island | Wakefield Park | Mallala | Winton S | Eastern Creek | Winton L | Wakefield Park | Morgan Park | Sandown | Eastern Creek | TOTAL |
| | | | | 6/7 March | 20/21 March | 17/18 April | 22/23 May | 12/13 June | 7/8 Aug | 28/29 Aug | 17/18 Sept | 6/7 Nov | 27/28 Nov | |
| Noel Bryen | NSW | 1963 Rennmax BN-1 | FJ2R | 30 | | 40 | | 40 | | | | | | 110 |
| Max Pegram | VIC | 1960 Gemini Mk II | FJ1F | 30 | | 40 | 37 | | | | | | | 107 |
| Kim Shearn | VIC | 1960 Lotus 18 | FJ1R | 30 | | 32 | | | | | | | | 62 |
| Grant Walker | VIC | 1960 Lotus 18 | FJ1R | 24 | | | 30 | | | | | | | 54 |
| Steve Moody | VIC | 1960 Lotus 18 | FJ1R | 16 | | | 24 | | | | | | | 40 |
| Sam Brabham | VIC | 1963 Brabham BT6 | FJ2R | | | | | 32 | | | | | | 32 |
| Richard Nitschke | SA | 1962 Elfin FJ | FJ1R | | | 24 | | | | | | | | 24 |
| Norm Falkiner | VIC | 1959 Stanguellini | FJ1F | | | | 18 | | | | | | | 18 |
| Paul Faulkner | VIC | 1960 Lotus 18 | FJ1R | 11 | | | | | | | | | | 11 |
| John Medley | NSW | 1960 Nota FJ | FJ1F | | | | 1 | | | | | | | 1 |